RETRACTABLE WINDOW SCREENS
Windows are how we see and experience the world when we are at home, so let us make your experience the best!  We offer various styles and sizes for all your window needs.  With custom and power window options available, you are sure to love the way your house looks, and how outside looks from within your home!
There are two retractable window screen options from Phantom. Whatever your windows – or the look you want – there's a screen that will be perfect for you.
FOR PVC OR ALUMINUM
Serene by Phantom™ covers all window types including casement, awning, single & double-hung, sliding and tilt 'n' turn windows. Serene is made from extruded aluminum and is powder coated to resist fading and chipping.
FOR CUSTOM WOOD WINDOWS
Prestige by Phantom™ is perfect for beautiful custom wood windows which shouldn't be compromised by standard insect screens. Prestige screens are manufactured from extruded aluminum to which a stainable wood veneer is applied. A matching solid wood slidebar complements the housing and ensures that the screen is as perfectly matched to your custom wood windows as possible. There are seven standard wood species available. They are Pine, Fir, Alder, Mahogany, Red Oak, Walnut and Cherry.
Our Serene window screens are available in 8 Signature colors that are ready to order.
Prestige window screens are available in seven different wood grain finishes – which can also be stained to match your wood windows.
Custom Colors
Phantom's Serene retractable window screens are also available in virtually any custom color and can even be matched to your décor – all you need to do is let us have a color swatch.

Wood Grain
If you want the housing and slidebar of your motorized screens to have a wood grain finish – we can do that too with a variety of Decoral® decorative wood grain finishes.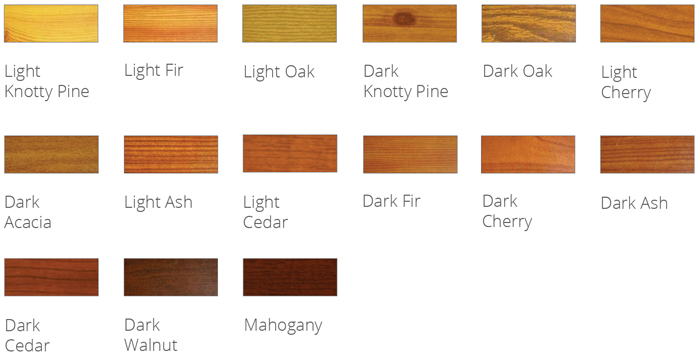 Choose your Mesh for Windows

There is plenty of choice when it comes to mesh for Serene window screens.
We have a wide range of mesh options to help you make your home even more comfortable! Choose from mesh that stops insects, lets the breeze in, gives you privacy or provides shade from the sun. Here's the technical bit: the mesh openness factor determines the amount of heat, light, and air that enters a room. A more open fabric allows the breeze and heat to enter the living space, while tighter meshes block more sunlight and keep the space cooler. Prestige retractable screens only feature BetterVue mesh. BetterVue delivers excellent protection from insects and keeps your views to the outdoors – even when the screen is pulled in place.
INSECT MESH
Ideal where insects are a problem, this mesh type reduces up to 55% of UV rays. Insect mesh also features a higher openness factor, which gives you more ventilation and visibility to the outside.
Mesh types in this category reduce heat and glare by up to 75% as well as keeping insects out. Solar mesh is perfect for keeping your home cooler and protecting your carpets, drapes and furniture from fading.
Available in multiple colors, this mesh type blocks up to 90% of UV rays. Thicker weaves provide extra solar protection and added privacy.