POWER SCREENS UP TO 40 FEET WIDE!!!
& Now available with Cable Guide system for when screen edges don't have a traditional rail – Watch the video or read more below.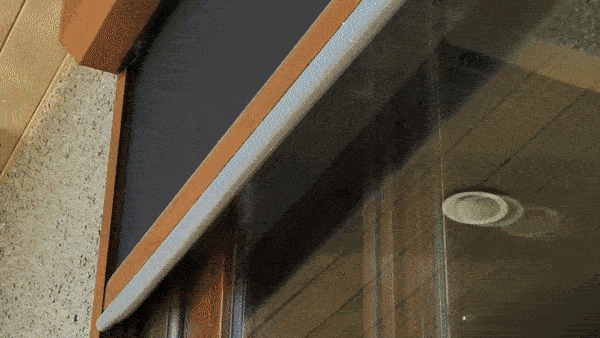 KANSAS CITY'S BEST RETRACTABLE SCREENS FOR YOUR DOORS, WINDOWS, BALCONIES, PORCHES, LANAI…
Make your home an oasis! With the Executive Screen you can enjoy the refreshingly cool breezes throughout your house or on your lanai, porch, or balcony, without those pesky insects. Simply engage the retractable screen with the effortless touch of a button, or retract it just as easily. The power motor smoothly and silently rolls the screen away when not in use – leaving only the beauty of your view. So stylish, it blends in with the décor of even the finest homes. So versatile, it fits most standard and oversize applications. So functional, it can supply enhanced privacy, shade from the sun and ventilation. Imagine the possibilities!
Check out the difference between high-powered and standard motor speeds.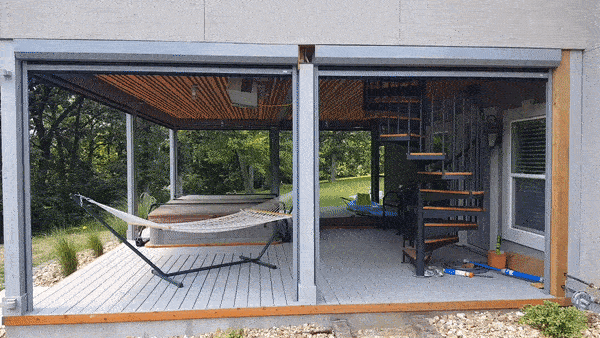 Executive Screens are designed to be stylish, functional and extremely versatile. Our high standards of quality and professional service ensure a lifetime of worry-free operation.
Adapts to fit most standard and oversized applications.
Provides protection from insects and pests.
Complete screening and shading options from maximum versatility.
Screens remain out-of-sight until needed, so you can enjoy the view.
Power motor feature, with optional wall-control or remote control.
Professional service and custom installation.
Sturdy construction for years of trouble-free operation.
Limited lifetime warranty, for additional peace of mind.
Backed by Phantom, the leading provider of retractable screen solutions.
NOW WITH CABLE GUIDE SYSTEM
PHANTOM'S CABLE GUIDE SYSTEM IS THE NEWEST OPTION AVAILABLE IN OUR FAMILY OF MOTORIZED SCREENS
Why cables over tracks? The subtle cable guides keep exterior solar shades in place on windows, glass walls and structures with open corners where there are no posts or walls to mount a track system. In these applications we can secure the screen with cables that are mounted between the roller assembly and a floor or vertical surface.
Phantom's new cable guide system keeps solar shades from swinging in breezy conditions and features:
Self-tensioning cable technology
A clean, subtle look
Floor and vertical surface mounting options.
FEATURES & BENEFITS
Attaches to building exteriors making our screens 7X more effective at reducing heat gain than interior solar shades
Works on structures with open corners and cantilevered roofs
Features self-tensioning technology that helps keep the cables taut in varying outdoor conditions, reducing the need for maintenance
Prevents shades from swinging in breezes
Provides durability – cables are 5/32″ in diameter and fastener components are corrosion resistant.
Control Options
We're very happy to partner with Somfy Systems to provide lots of screen automation and control options including remote controls and devices that respond to environmental conditions.
Don't worry if these options are confusing – your authorized Phantom Screens representative will help you choose controls most applicable to your screening needs.
Controls and Automatic Devices
We can provide either wall mounted switches or hand-held remotes to lower or retract your screens whenever you choose.
Multiple channel controls can be used to operate any number of screens with settings programmed to your liking. It is also possible to integrate Executive motorized screens with your existing home automation system for ultimate convenience.
Environmental Sensors
Executive motorized screens can respond to the outdoor conditions of your home thanks to Somfy technology. We can help you save on air conditioning costs, improve climate control and maximize energy efficiency.
For example, sun sensor controls automatically lower your screens during warmer times of the day to reduce building heat gain.
Components
Executive's high-quality components ensure years of trouble-free operation.
Motors
Housing and Housing Cover
Diameter 47mm (2.0in.)
Roll-formed Aluminum
Progressive Limit Setting
Color-matched
6' of Motor Cord
Corrosion Resistant Screws
C-UL Recognized
CSA Approved
Wattage Ranges from 110-210
Amperage Ranges from 1.0 – 1.8
Approximate weight is 8 lbs.
SIMU Tubular Operators/Type 5 (120v – 60Hz) AC
SIMU 120v-60Hz AC motors come standard with built-in electric brake and limit switch
Sizes
Executive Screens fit most standard and oversize applications.
| | |
| --- | --- |
| Width | Height |
| 28" to 40' | 2' to 11' |
Signature Colors
Executive motorized screens are available in nine Signature colors that are ready to order.

Custom Colors
Our screens are also available in virtually any custom color and can even be matched to your décor – all you need to do is let us have a color swatch.
Wood Grain
If you want the housing and slidebar of your motorized screens to have a wood grain finish – we can do that too with a variety of Decoral® decorative wood grain finishes.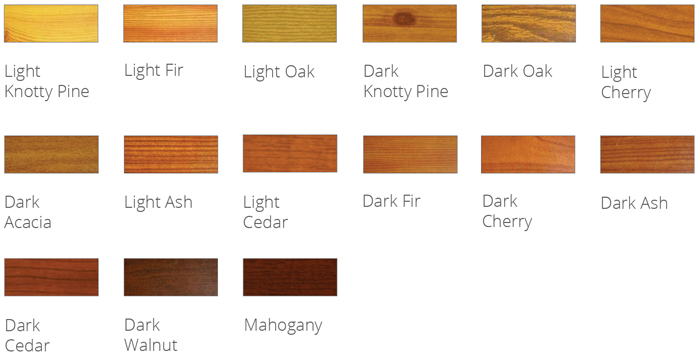 Screening and Shading Options
Phantom's wide range of mesh options help you make any space a more comfortable and attractive living environment. You can choose from mesh types that provide insect protection, solar heat control, natural ventilation, or increased privacy control. And the technical bit? The mesh openness factor determines the amount of heat, light, and air that enters a room. A more open fabric allows the breeze and heat to enter the living space, while tighter meshes block more sunlight and keep the space cooler.

Insect Screen
This strong mesh reduces up to 55% of harmful UV rays, is recommended for large openings and is great for keeping insects at bay.
Solar Screen
This strong mesh reduces up to 55% of harmful UV rays, is recommended for large openings and is great for keeping insects at bay.
Privacy Screen
This unique option offers substantial shading, while at the same time, reducing fading by blocking up to 90% of the sun's harmful UV rays.