New in 2017
Clear Vinyl
Using this option enables you to control the temperature in your outdoor living space. It is designed to keep both the warmth in and the weather out, as well as turn you covered porch or patio into a cool, air conditioned room.  The Crystal Clear Marine Grade vinyl is a great way to impress your guests and keep them comfortable at the same time! The clear vinyl can be added by itself, or as part of a dual roller system. So why choose, when you can have both! Get clear vinyl AND one of our other mesh options – all at the touch of a button or smartphone app!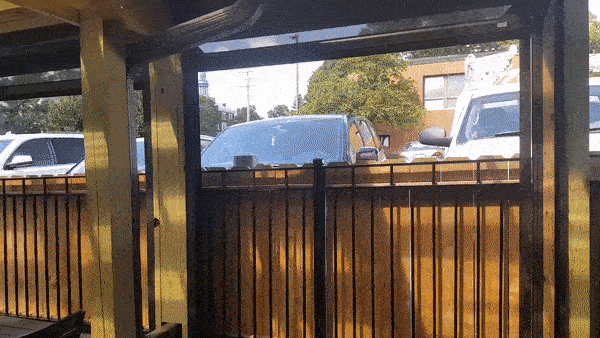 Expand your living space and add more usable square footage by opening up your home or business to your covered deck or porch.  The clear retractable vinyl is designed to be stylish, functional and extremely versatile. Our high standards of quality and professional service ensure a lifetime of worry-free operation.  Plus each unit comes with a complimentary bottle of Yacht Soap Concentrate, IMAR Protective Polish and IMAR Protective Cleaner.
Adapts to fit most standard and oversized openings.
Provides additional protection from insects and pests.
No hazy blueness, fish-eye, dimples or distortions.
Vinyl panels can be joined to vinyl panels creating a larger "window" with an unobstructed view.
All joints are welded for both strength and aesthetics.
Provides year-round benefits by retaining heat and conditioned air.
Proven energy efficiency.
Can remain out-of-sight until needed.
Professional service and custom installation.
Limited lifetime warranty*, for additional peace of mind.
Backed by Phantom, the leading provider of retractable screen solutions.
* Please note that the warranty excludes the vinyl itself.
Control Options
We're very happy to partner with Somfy Systems to provide automation and many control options including remote controls and devices that respond to environmental conditions. Don't worry if these options are confusing – your authorized Phantom Screens representative will help you choose controls most applicable to your screening needs.
Controls and Automatic Devices
We can provide either wall mounted switches or hand-held remotes to lower or retract your vinyl units whenever you choose. Multiple channel controls can be used to operate any number of units with settings programmed to your liking. It is also possible to integrate Executive motorized vinyl units with your existing home automation system for ultimate convenience.
Environmental Sensors
Executive motorized vinyl units can respond to the outdoor conditions of your home thanks to Somfy technology. We can help you save on air conditioning costs, improve climate control and maximize energy efficiency.
Components
Executive's high-quality components ensure years of trouble-free operation.
Motors
Housing and Housing Cover
Diameter 47mm (2.0in.)
Roll-formed Aluminum
Progressive Limit Setting
Color-matched
6' of Motor Cord
Corrosion Resistant Screws
C-UL Recognized
CSA Approved
Wattage Ranges from 110-210
Amperage Ranges from 1.0 – 1.8
Approximate weight is 8 lbs.
SIMU Tubular Operators/Type 5 (120v – 60Hz) AC
SIMU 120v-60Hz AC motors come standard with built-in electric brake and limit switch
Sizes
Retractable vinyl units can fit most standard and oversize applications.
Maximum size 18′ wide x 14′ high
Minimum 8″ sides and 12″ top and bottom colored perimeter vinyl in either Black, Sand, White or Brown is required around the clear vinyl "window"
Maximum height for the Clear Vinyl "window" is 107″
Signature Colors
Executive motorized vinyl units are available in nine Signature colors that are ready to order.

Custom Colors
Crystal Clear vinyl units are also available in virtually any custom color and can even be matched to your décor – all you need to do is let us have a color swatch.
Wood Grain
If you want the housing and slidebar of your motorized vinyl unit to have a wood grain finish – we can do that too with a variety of Decoral® decorative wood grain finishes.